UNIQUE AND IMPRESSIVE CONTENT CREATION TREND ON TIKTOK
In recent years, TikTok has emerged as a new trend favored by Gen Z because of its unique and eye-catching video effects and layout with creative design. Therefore, taking advantage of interesting features on TikTok will help businesses create impressive marketing content.

Let's find out with TRON HOUSE about the trend of content creation on TikTok to apply to your brand.
TikTok is where users can create short videos, edit them with music and special effects, as well as share personal videos. It can be videos of lip-synching, cooking, dancing, ... Thoroughly, TikTok has developed as a social network with the main content of video sharing.

Why is TikTok so successful?
According to recent statistics of SensorTower, TikTok App is always in the top position in terms of the number of users downloading at both App Store and Google Play in 2019.

Especially in Asian countries like Thailand, Japan, Indonesia and Vietnam, TikTok has been achieving certain success with the number of users increasing daily every hour. So why, in a short time, TikTok became a popular social network?
Video TikTok By TRON HOUSE

TikTok's success can be attributed to the following factors:
Digital technology is growing strongly, so social networks are born to help users connect, share, leading to an information explosion. Every day, everyone has access to thousands of new information, constantly updated every hour and every minute. And that makes people always feel overwhelmed in receiving information.

Besides, life is busier day by day, so quickness and utility become the top priority criteria. At the same time, users are also becoming less interested and passive in receiving information.

Uniqlo x Tiktok

According to research by the Content Marketing Institute, the majority of users prefer graphic design more than text, seeing images more than writing, looking more than reading, and be more motivated than static. Therefore, viewers are often attracted to beautiful images, creative design and it is easy to ignore long text content.

Knowing insights of users, especially young people, TikTok has become the fastest growing social network in the world.

Tiktok - "Rich Land" for Advertisers
Not only is it considered a place to have fun and entertain, but TikTok is also considered a "rich land" for advertising activities and content creation. As other social networks grow and flourish, TikTok ads are considered to be an extremely effective advertising tool for businesses.

In China, big brands like Airbnb, Chevrolet, Dior, or Adidas have combined with TikTok to distribute ads to users. TikTok has raised Airbnb's brand awareness by 200% and favorite brand to 89.2%.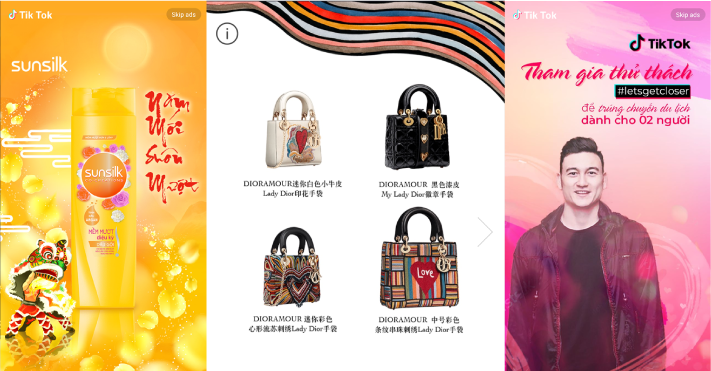 In Vietnam, one of the campaigns associated with TikTok's outstanding brand last time is #donnghiepthoate, in cooperation with Sunsilk. Launched on the occasion of the Lunar New Year, the campaign encourages users to "clean up" the bad luck from words to receive more love and celebrate the bright new year in their own ways. Sunsilk has covered the platform with more than 45 million impressions when opening the app, more than 10 million regular impressions, and appearing in the hashtag with 30,000 videos and 24 million views.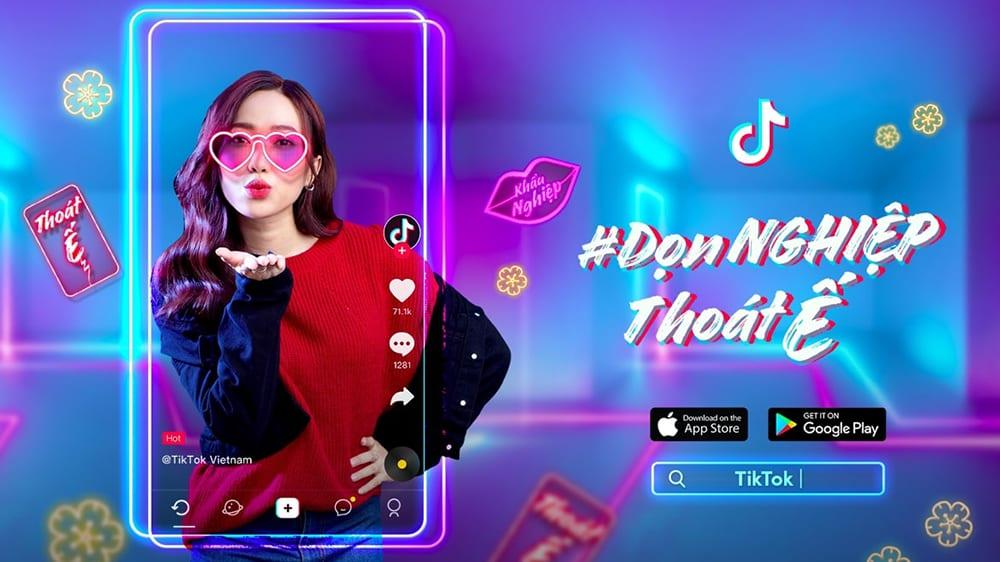 In addition to the form of direct advertising on the user interface such as Facebook Ads or Instagram Ads. The most common form of advertising in TikTok is that businesses often combine with small and medium Influencer to advertise their products on their channels. The clips on TikTok are often short and entertain, combined with the charisma of influencers creating significant brand success metrics. Influencers with clips have a million views on TikTok such as Tran Du (858,000 followers), Bo Bap (814,000 followers), Tra Dang (663,000 followers) ... You can easily see these Hot TikTok-er also very young, energetic, and having style suitable for the brand and young people.


Tiktok Video By Bo Bắp

The impressive number of impressions and interactions shows that this is "touchpoint", and a new playground for advertisers and creators, distributing ads to the right target audience. With the unique features created on the AI ​​platform and the anticipation of users moving from reading to audiovisual, TikTok has succeeded in creating an app "national" in many countries in Asia and the world. If Vietnamese enterprises can take advantage of TikTok, it will be a great advantage to easily reach extremely potential young customers.

After reading the above article, have you grasped more about the trend of content creation on TikTok? If you are having a headache creating advertising content on TikTok, please contact Tron House now!
Read more:
HOW DOES THE TIKTOK ALGORITHM WORK? HOW TO MAKE YOUR VIDEO BECOME "MILLION VIEWS"?
TẦM QUAN TRỌNG CỦA NỘI DUNG SÁNG TẠO KHI KINH DOANH TRỰC TUYẾN
CONTENT MARKETING - NHỮNG CASE STUDY VỀ TIẾP THỊ NỘI DUNG TRUYỀN CẢM HỨNG CHO CÁC MARKETER
TRON HOUSE