Creative design on rich cultural treasure material, why not?
Which direction should Vietnamese creative design go to achieve sublimation, while still keeping its own identity?
Vietnam we have a cultural history spanning over 4,000 years with many famous cultures, along with many artifacts imbued with indigenous culture, folklore treasures we have many stories educationally interesting but not dogmatic.
So, why don't we use this available and unique material as the material of the creative design industry, to create unique and attractive products?
Let's find out with TRON!
WHY SHOULD CHOOSE MATERIAL IS CULTURAL TREASURE?
What is Creative Design? In short, it is the designs that meet the needs of conveying the message (effectiveness) and are used creatively by the designer, demonstrating the design ability, affirming his unique personality.
Every designer has their own way of creating their own products based on the description in the brief. That creativity will be based on learned knowledge, Internet research, ability to learn, experience and personal genius...
Every designer knows by heart a method to preserve creativity that is to build their own store of ideas, whenever they suddenly come up with a good idea whenever they come across a favorite idea, they will put it into their own "store", as a kind of "save". So that every time they have an idea, they can take it out to use as creative material.
So what "materials" will creative designers need? It is an idea about: famous people, places, cultural works, folk songs and proverbs, history, legends, living arts, handicrafts, customs, archaeology, culture, scenic spots landscapes… surely when TRON said, in your head, more or less the corresponding images appeared, right?
Because that information has been inside you for a long time, you have "absorbed" those materials from school, from society, from your own collection.
How great is Vietnam? The oldest celebrity we have is Lac Long Quan with the legend of the Dragon and the Fairy, we have Cham towers built of burnt bricks that stand tall with time, our history is 4000 years long, we have 54 people With ethnic groups with diverse cultural colors, Vietnam has 7 cultural regions with different customs and habits and different clothes, cuisine, festivals, music, thinking, climate... but they all belong to one name, Vietnam.
So, any "material" needed is available, the rest is the creativity of the designer. It is these "materials" that form the inner strength of the designers' sensitive and liberal souls and create the creative power of each of their designs.
So that when they "achieved" a new theory or other creative design methods, they will all blend together to create a distinct identity.
HOW SHOULD WE USE THIS TREASURE?
The application of cultural "materials" in creative design will depend on the ability of the designer and the requirements of each design.
However, when using it, do your research thoroughly, for example, when you need to design a poster about a dish that is a Square cake of a northern brand, use peach blossoms to accompany it instead of apricot flowers.
You can use a formula that combines the content to be shown, goes with a cultural "material" and chooses a modern expression method such as 3D, Anime, Animation, Motion Design, UX/UI, graphic design… for a unique creative design.
You can refer to the examples below.
Highlands Coffee was inspired by the Dong Ho painting "Vinh Hoa - The boy holding the chicken" to create a version of Dong Ho painting with today's breath, titled "Capturing all glory". The picture is like a happy wish to customers in life on the occasion of the Southern New Year, with the optimism, love of life and joy of the boy Vinh Hoa. You can see the typical drawing of Dong Ho paintings, the content of the happy new year, the modern element is the phone to take selfie pictures.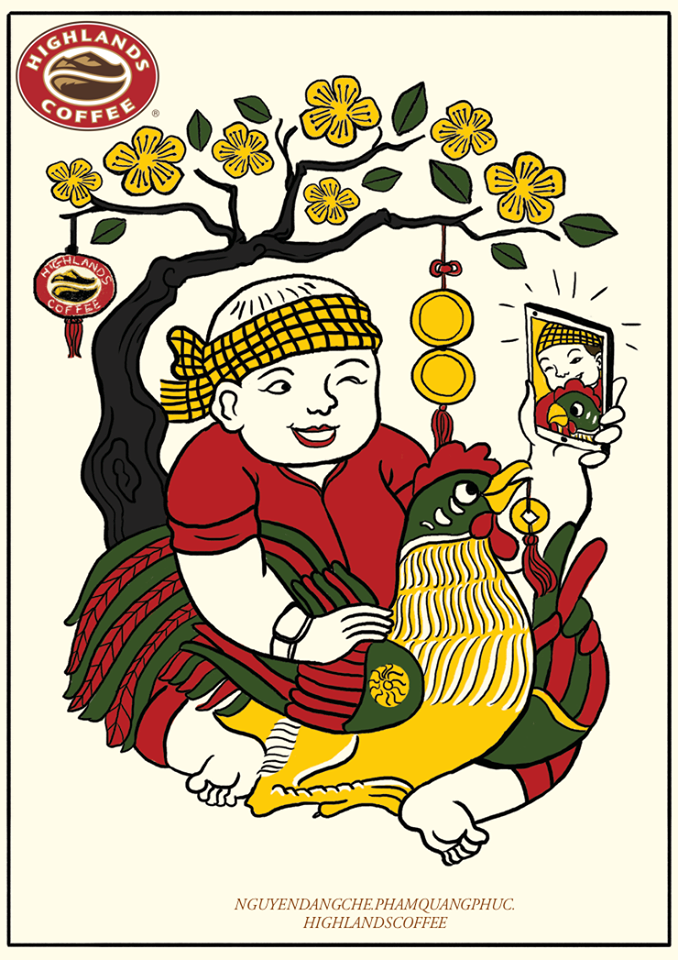 Source: Highlands Coffee
Another example of Mastermind, a team of people who are passionate about traditional board games, love creative design and craft in Saigon, their design products of board game "hope these products will inspire generations – regardless of age, region, or social status – to sit together and enjoy a game of chess."
With the project "Bau Cua" dedicated to the Lunar New Year 2021. A set of game tools including Bau Cua table made of leather, Origami-style folding envelopes, paper dice.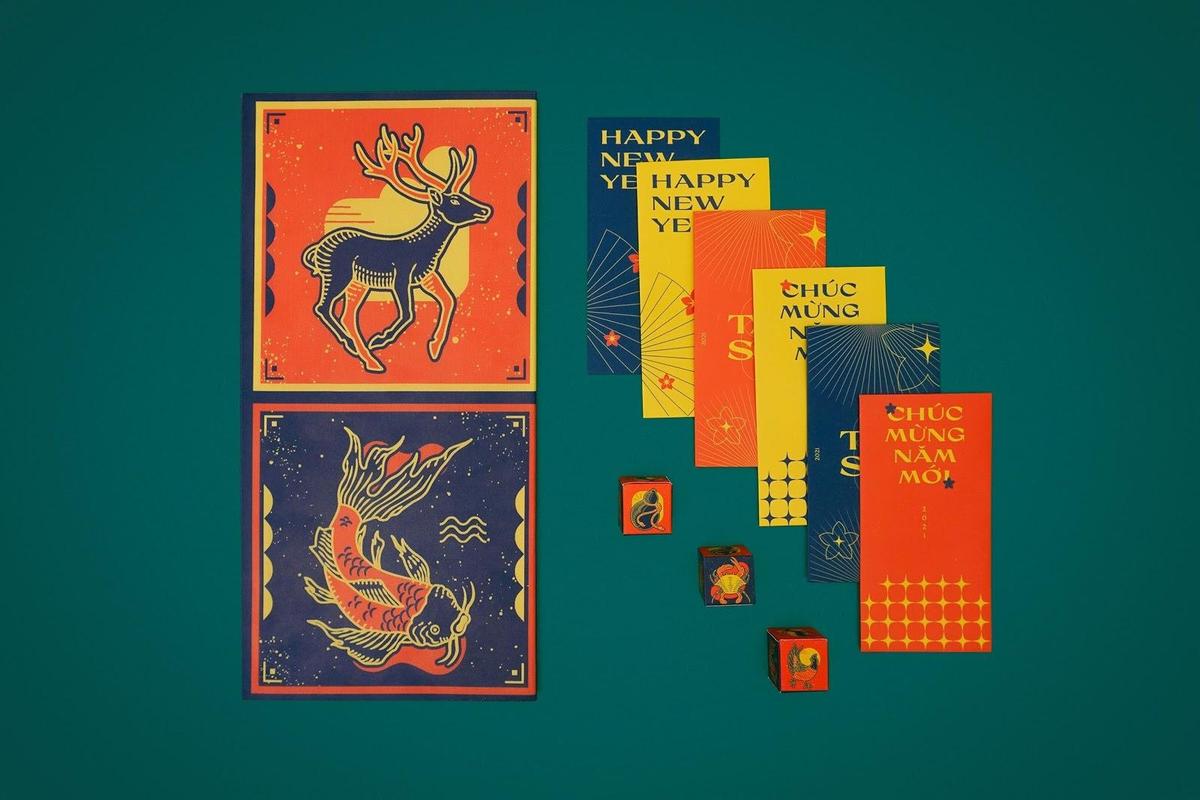 Source: Internet
The Coffee House launched a gift box for Tet 2021 with a 3D design on the idea of ​​​​the lion dance to welcome Spring, one of the fun activities when Tet comes.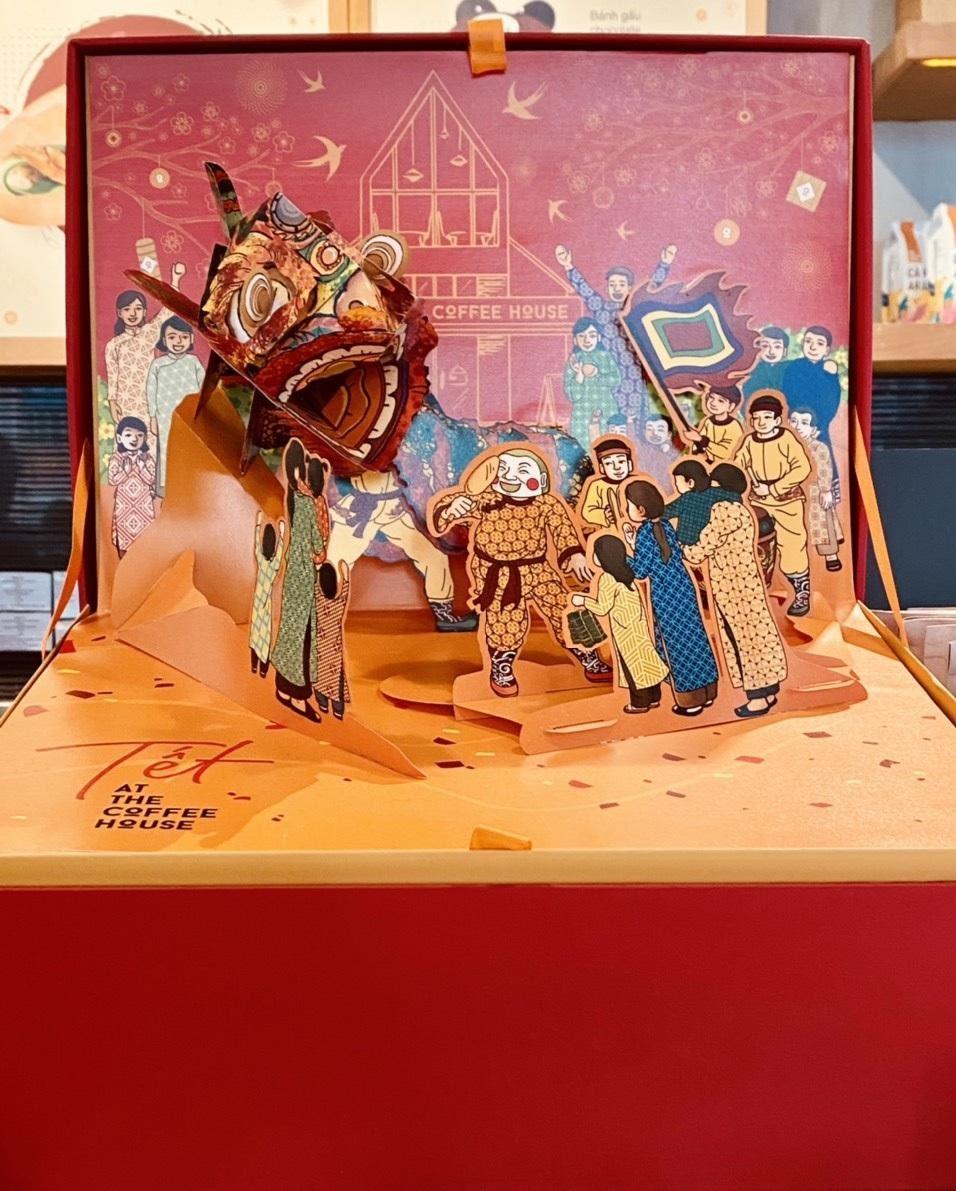 Source: Tron House
However, creative design is work without limits, besides popular culture In Vietnamese time, you should still learn a lot of other materials to enrich your knowledge.
Let the culture of Vietnam become the strongest inner strength within each of us, this is the "property" we inherit from our ancestors, from the generations of our ancestors. Therefore, we cannot waste resources, but let's enrich, for ourselves and our children, and at the same time create a creative design industry rich in Vietnamese identity and unique by its peers in the world. Do you think like TRON HOUSE?
Read more:
3+ STEPS TO HELP YOU WITH CREATIVE DESIGN IDEAS
BẠN SẼ KHÔNG CÒN PHẢI "CHẬT VẬT" TÌM KIẾM IDEA VỚI 3 Ý TƯỞNG CHỤP HÌNH QUẢNG CÁO SÁNG TẠO NÀY
COLOR OF THE YEAR 2021 - ĐIỂM QUA VÀI Ý TƯỞNG TỔ CHỨC SỰ KIỆN LẤY CẢM HỨNG TỪ MÀU SẮC
TRON HOUSE